Help Hungry Neighbors in Time for Thanksgiving We're hard at work getting ready for Thanksgiving, but we need your help to reach our goal. Right now, every $2.49 you give during this season of gratitude provides a meal, life-changing care and so much more to a hungry and hurting neighbor. Please give before Thanksgiving is here. Your most generous gift today will help transform lives. Thank you!
To make a payment via

For credit/debit transactions, fill out the form below.
For In Memory of/In Honor of, please make the donation below then email contactus@vegasrescue.org to provide details for a letter to be sent to a designated recipient.
Las Vegas Rescue Mission is accredited by ECFA — an independent evaluator of Christian non-profit organizations, and a 4-Star Charity on Charity Navigator, America's largest independent charity evaluator.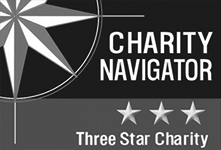 Your gift benefits homeless and hurting men, women, and children in Las Vegas, and provides safe shelter, nutritious meals, and crucial recovery services. We are a local 501c3 organization; all monies raised stays in our community. It costs just $2.49 to provide a meal for one of our hungry neighbors!