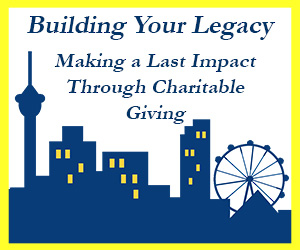 How to Build Your Legacy
The Las Vegas Rescue Mission exists to serve those in need through food, shelter, daily needs and addiction recovery, offering hope and life change to individuals and families through Jesus Christ.
With no regular government funding sources, we rely upon the compassion and generosity of individuals, families, groups, local businesses, and foundations to continue our story of providing hope and transforming lives in southern Nevada.
If you want to help us end homelessness, there are many simple ways to set up gifts that help today, and/or in the future. In addition to volunteering and donating household goods, there are other simple ways to give.
Our "Building Your Legacy" is a simple guide to making a lasting impact through charitable giving in Las Vegas for years to come using assets, such as Stock & Real Estate, IRA's, Life Insurance, Memorial Gifts, Wills, Revocable Living Trusts, and other "bequest-type" gifts.
For example, did you know that if you are 70 ½ years old or older, you can give money directly from your IRA to a qualified charity? That's right, you can give $100 or any amount up to $100,000 to charities of your choice. There is no tax on the amount given, so it is like receiving a tax deduction even for non-itemizers, and it can qualify for your annual required minimum distribution.
To request our "Building Your Legacy" educational guide, email bdavid@dev.kmjwebdesign.com or call (702) 932-8177.