We simply cannot open our doors without our volunteers. Thank you for your unselfish commitment to be a part of a team that changes lives. The volunteer experience will change your life and the lives of the people you serve for the better.
Be Part of the Team
Please take a moment to learn about the different ways to be part of the team:
Daily volunteer shifts are available. 

To view / sign up for available shifts for Meal Service or the Thrift Store, please go to our VolunteerHub portal.

Mentor Program. 

If you are interested in mentoring a resident in our Recovery Program and want to learn more, please email: volunteer@vegasrescue.org.

Other Opportunities
If any areas are of interest to you, please email volunteer@vegasrescue.org:

Chapel: Morning Devotion or evening services
Volunteer Details: 

Click Here to view Volunteer Age Requirements & Dress Code

Court-Ordered Community Service Hours

If you are court-ordered to complete community service, please click here for further instructions on signing up.

Variety of Donation Drives
To setup a donation drive, please fill out the Donation Drive Request Form.

Specific to time of year (Example is a water bottle or sweater drive)
We are very flexible in helping our groups be creative and help design drives that can be done to help us serve the needs of our community.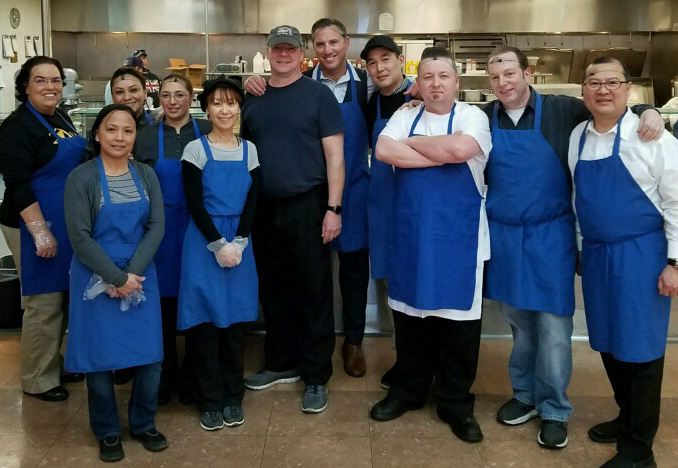 Upon joining MGM I wanted to be a part of something bigger than me. When Chef Brad and I volunteered at the Rescue Mission it enabled us to help our community and hopefully enrich the lives of the people we help. We are both so thankful that we get to be a part of something as great as the Mission.
~ Sean-Michael Longstreth – General Manager – Olives Restaurant – Bellagio
What is the time commitment to volunteer at LVRM?
Depending on the area that you serve will determine the length of time that will be needed; opportunities range from one hour to half or full day; the average shift is 2-hours.
How old do I have to be to volunteer?
Unless otherwise stated during registration for an opportunity, all volunteers must be 14+.
Minors aged 14–15 MUST be with an supervising adult at all times, who also needs to register for the same shift. Minors aged 16-17 may volunteer on their own, if they have a vehicle that remains on campus during service or they are with another volunteer 16+ who has vehicle on campus.
Are there requirements regarding appropriate dress to join the volunteer team?
LVRM is a recovery-based Christian ministry, so we ask that each volunteer have closed-toe shoes for safety and clothing be of modest nature. We ask that pants and appropriate shirts be worn (no tank tops).
How do I sign up to be a part of the volunteer team experience?
"I enjoy my time at the Las Vegas Rescue Mission as a volunteer. It allows me to give back by helping serve others. I volunteer regularly because longevity in any activity allows for a deeper and more meaningful experience. So come down and try it! You'll be so happy you did."
~ John B.
Volunteering at The Las Vegas Rescue Mission has given me an opportunity to help people that are in a position of need. I myself have been in this position before. The Mission provides me a safe and reliable place where I am able to give back to my community and provide encouragement. They are very caring and involved with the people that are attending there and make me happy to see a place that is dedicated to uplifting the community.
~ Elizabeth R.
"I have been volunteering on a regular basis for almost two years at the Las Vegas Rescue Mission. The staff and guests are so great to be around and I love being able to give back to my community to make a positive difference for those in need."
~ Heather, Local 501 IUOE